We adopted this pretty lady when she was six months old. We saw her on the website of a Spanish shelter, and we were totally in love! Polina arrived in Belgium the 29th of June 2013. She was a bit scared, but only a few minutes later, she was running around!

    The days after that, we got to know her a bit better. She is a very curious and happy dog. She always has a wagging tail, happy face and lots of love for us. But we did have some troubles. We didn't go to the training school, because she was very sick the two first months. But we taught her some tricks at home, like 'jump,' 'sit,' 'paw,' and many more. She can even prance like a horse!

    In July 2014, we took her to France. It was her first trip ever, since her journey to come to Belgium! There was a problem when we arrived, the garden had no fence, so she could just run away if she chose. We were a bit scared, but we took off the leash and let her run. She listened very well! A couple of days later, we went to the beach. We took Polina with us, and she ran the whole time, and had the time of her life. And since that trip, she can walk without a leash with no problems. We're just so proud of her!

    And that's why I nominated her. She's just so special and she means a lot to me. She's always there for me, and even when there are some problems, I always keep loving her, and I will love her 'til the end.

   Photos copyright Annelies Boeykens.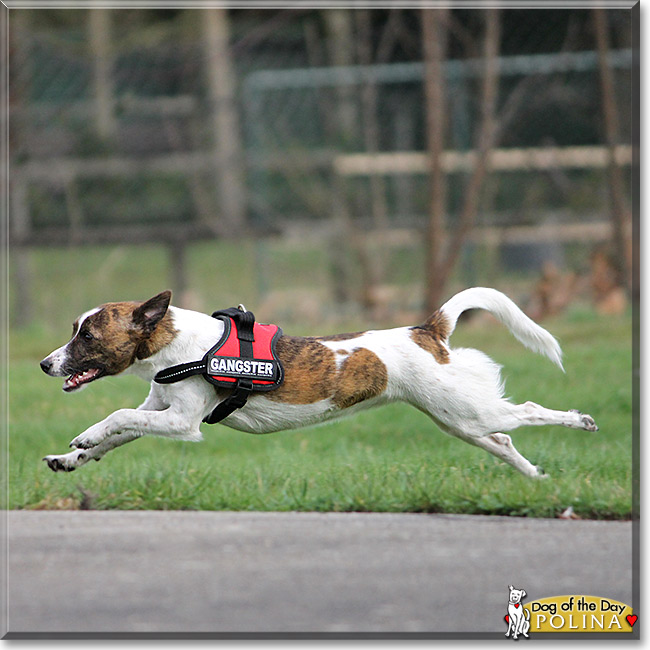 See more images of Polina!