Hello, this is our Chihuahua, Filou. She is almost one year old, she was born on January 23, 2014. She is a short-haired Chihuahua. She has the colors of a cow. We like to call her our "mini cow." When she was born she had a lightning mark on her head, so her breeders called her "Lightning."

    We named her Filou because it sounds sweet, and she is a very sweet dog. A few days after Filou was born, the breeder e-mailed us some baby photos of her. They were very cute. The first week she was born, we visited the breeder to see Filou for the first time. I still remember how she brought her to us. She lay wrapped in a pink soft blanket. She was so tiny, and her brother was on that blanket, too. He was bigger, even though Filou has born first. When we visited her, we brought her a blanket with our scent in it so she could get used to us.

    Later she e-mailed us new photos of Filou. It was a shock, she changed that much! She grew so fast! At our next visit she could open her eye, so now she could see us. It was funny to see, a mini Filou back then. The day she came at home was awesome. We bought a dog igloo. When I came home from work I saw a little doggie in it. She was still sleeping. It was a big change for her, but her shyness was gone in no time. Slowly she came out of the igloo to explore her new home. She came to sniff and lick at us. She was very happy, and began to bark and play. She loves to get hugs and attention. She sure loved her toys we gave her! But the first night was a bit tough. Filou cried a lot because she was alone now. When she cried, we came downstairs to keep her company. After three weeks of crying at night, she learned to sleep alone. She also did well with the puppy trainer, after that she knew to go outside to do her thing. Filou likes to lie and sleep in the sun. She also likes to sleep on the sofa, and likes to have a blanket with her. She also loves to lie down on our laps, too. She has a favorite pet plush, an orange plush squeaky toy.

    Filou likes to go for a walk, the longer the better: she loves to explore the outside world. There is also a cat that comes visit us. Filou likes to play with him, and they are best friends. But after a while, we thought that it was time for a new dog, a friend for her. We knew sometimes she felt alone. So Finley came into her life in October this year. Filou didn't know what she was looking at. She didn't know what to think or do with Finley. Finley was very happy to see Filou, as had her littermates, but Filou needed to get used to Finley, as she hadn't seen another dog in ages. Of course this was new to her! But we're glad the two girls get along so well now! They can't life without each other, and we can't life without our pets. It's so much joy to come home with two doggies there waiting to lick and kiss you. It's a good feeling. It means they love us. And we are loving them!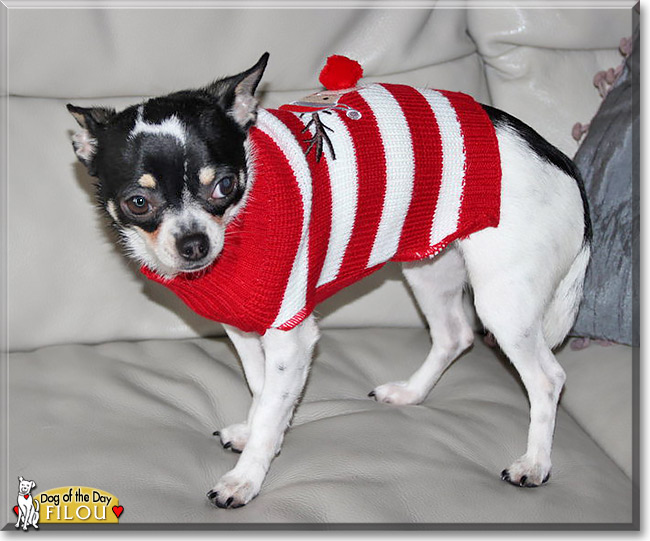 See more images of Filou!